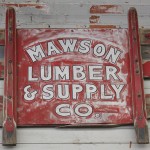 The original name is the R.L. Mawson Lumber Co. Founded in 1927 and operated by Earl Mawson out of Severance, CO. Mr. Mawson sold his first load of lumber, a car load, and grew the business to seven locations including the original in Severance, as well as locations in Fort Collins, Cheyenne, Loveland, Longmont, and two others in the area. The business consolidated to one location at 307 E. Mountain Avenue in Fort Collins where it remained and was sold to Tom Moore in 1979.
The lumber yard burned to the ground in a devastating fire in 1983. The business relocated to a one-building shed after the fire and plans were made to rebuild the business. Down to three employees, including Mr. Moore driving a forklift, the business was able to re-establish itself. Fast forward to 2010 when Mr. Moore explored the possibility of adding retail space to the facility that has housed it since the fire.
The decision was made to relocate the retail and office space to a 100+ year old Union Pacific Freight Depot owned by Mr. Moore, plans were drawn up and construction began in the fall of 2011. On October 9, 2012 Mawson Lumber & Hardware began operation at its new facility located at 350 Linden Street in Fort Collins with an expanded building material, fastener and tool department. Offices accommodate the accounting, lumber and window sales departments.
The store was purchased by Scott Glasscock in July of 2015 assuring that Mawson's will continue their service and longevity our customers have come to expect.
Contractors and customers now have a spacious meeting room to aid in their design and buying decisions. Please stop by our offices any time, Monday through Friday, from 7:00 – 5:00 to see your new facility.
Thank you from the staff of Mawson Lumber & Hardware.